Slab Jacking: Save up to 75% on Replacement Costs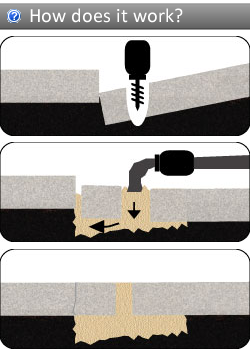 Slab jacking is a technique for repairing cracked, damaged or sunken concrete slabs. Obrien Concrete Repairs use this method to remedy the problem without hassle!
Slab jacking offers an affordable and effective way to raise sunken concrete slabs, back to original level. A cement grout is injected under the slab, filling the void and raising the slab to its correct level.
Obrien services concrete repairs in the Taree/Forster region, Gloucester and New England areas and across the Mid North Coast from the Hunter to the Queensland border.
Concrete slabs in building, driveways and most concrete constructions can be repaired using this method.
Please visit www.obrienconcreterepairs.com.au for more information about concrete slab jacking.
A Case Study in Concrete Slab Jacking Repairs
Problem
This is a part of the factory that was always avoided by the forklift. The different heights of the neighbouring slabs together with the rocking of the unstable slab made it unsafe for the load as spilling was always a concern. The only way to navigate this area was the slow and steady approach.
Solution
Slab jacking was used to remedy the problem. This involved core drilling holes in the slab and by using a special injector, cement grout was pumped under the slab to raise and stabilise the area. The results were immediate.